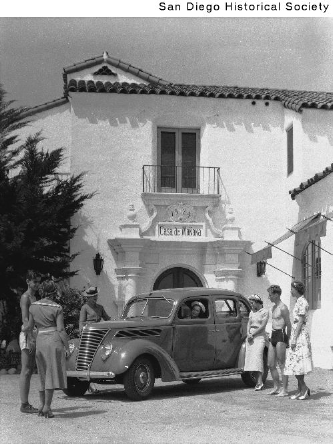 Edgar Vaughn Ullrich
1893 — March 8, 1958
Edgar Vaughn Ullrich was born in Colorado Springs, Colorado, in 1893. The Ullrich family was socially prominent and is listed in the Colorado Springs Bluebook during the 1920's and 1930's. The father, James, was president of several utility companies. Edgar V. Ullrich is listed in the Colorado Springs City Directory as a student at Colorado College as early as 1914 and by 1923 is listed as a practicing architect.
Mrs. Isabel Morrison Hopkins was a socialite from Colorado Springs who had come to La Jolla, California, sometime around the year 1922. Her invitation brought Edgar V. Ullrich to La Jolla in 1924 to design for her the Casa de Manana. That same year the Casa won an A.L.A. award as the outstanding structure of its type in Southern California.
Edgar's first wife was Hazel Robinson of Michigan; his second wife was Margaret Spencer. His daughter-in-law, Marian Ullrich, has retained some of the architect's records and is currently writing his biography.
There is substantial, if not written, documentation linking Ullrich and the Braun Estate in Vista. James Wilson of Del Mar was a draftsman for Ullrich in the late 1920's and early 1930's, and upon contact verified, as has Marian Ullrich, that Edgar Ullrich designed the residence for Charles A. Braun. Lousie E. Braun, the daughter of Charles A. and Lousia A. Braun, has also verified Ullrich as the architect. Further, when the previously mentioned Casa de Manana opened as a resort, the enterprise was handled by Louis Braun, a prominent real estate broker during that era, and a member of the Braun family.
Edgar Vaughn Ullrich's work in the San Diego region is monumental, and a few of his more significant achievements are listed here. His own home, a Tudor structure at 7231 Monte Vista Avenue in La Jolla, was built in the 1920's. The home is the scene of historic landmark tours in La Jolla. He was responsible for the layout of Muirlands, an exclusive district in La Jolla, subdivided by developer James W. Muir. Ullrich designed a number of the homes in the community as well as Muir's own residence. The Muir home is known as the "Versailles of La Jolla" and recently was sold for $6 million.
Ullrich designed six churches in the San Diego/La Jolla area, including St. Charles Borromeo and Holy Family Church. He designed five major buildings on the University of San Diego campus and a plague with his profile marks his work on the University grounds.
Although Ullrich designed structures in a variety of styles, he is probably best recognized for his Spanish Colonial Revival designs utilizing red tile roofs, integrated patios and spacious landscape settings. Several of his La Jolla homes appear in the work by Rexford Newcomb titled, Mediterranean Domestic Architecture in the United States.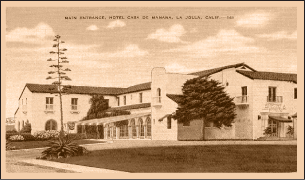 While a preliminary listing turns up some 28 impressive structures by Ullrich in San Diego County, only one of these homes has been placed on an historical register locally or nationally to this date. The glorious Villa Vista Estate joined the historical registry as of 1985.
Edgar Vaughn Ullrich passed away on March 8, 1958.