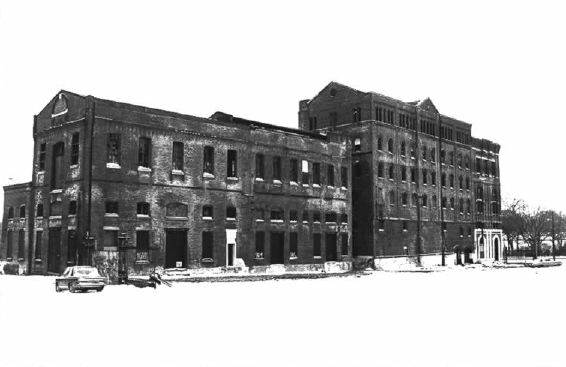 Bergdoll Brewing & Sons Company in Broomall, Pennsylvania. Circa early 1900s.
Charles A. (Bergdoll) Braun
May 22, 1886 - 1962
The Bergdoll family became well-known through the Louis Bergdoll and Sons Brewing Co., founded in 1849 by Louis Bergdoll, a German immigrant. During its peak operating period, the Bergdoll brewery produced one of the most popular beers in the country. In spite of Prohibition, the company did not actually dissolve until 1951, when the Bergdoll building at 29th and Parrish Streets was sold. The Bergdoll estates were valued at several million dollars.
Grover Cleveland Bergdoll registered for the draft as did his brothers shortly after U.S. involvement in WWI began. But when two of them failed to appear for induction, a tale of international scope, involving intrigue, attempted assassinations, prison escapes and irreparable damages to many lives began and lasted into the 1950's. The story is best told in the book by Roberts E. Dell, The United States Against Bergdoll published in 1977, although the New York Times, all of the Philadelphia newspapers, the New Yorker, Life, Time, and other periodicals detailed the story on a regular basis. However much of the information reported, was misconstrued. Although the U.S. counted more than 170,000 draft evaders in World War I, the Bergdoll family became targets because of their wealth and recent German ancestry. Louis and Charles registered for the draft but were never called (American involvement in WWI lasted only two years). Erwin and Grover, however, were both registered and called. The draft during WWI was conducted by a number system which, in theory at least, came up in a predictable order. After registering, Grover and Erwin figured to have several weeks before their numbers came up and consequently, went away for a three-week vacation. Upon returning they discovered that their numbers had been selected out of order and warrants had been issued for their arrest. The charge was failure to appear for induction. The brothers fled; whether fearing unreasonable persecution or to avoid induction will never be actually known.
Charles (Bergdoll) Braun, alienated from his family, was nonetheless drawn into the disappearance of his brothers. Even though Justice Department agents and law enforcement officers searched his home without success, by 1920, he had been indicted (along with the entire family) for aiding his brothers. Charles maintained innocence and tried unsuccessfully to convince his brothers to turn themselves in. He was sentenced for aiding his brothers, as were the rest of his family, and each given the option of 1 year in a federal prison, or a fine of $7,000. The fines were paid in lieu of the prison term for Emma, Louis, Charles and Erwin.
The trail and conviction could have been the end of the story except that Grover was still at large and staged an escape under unusual circumstances.
After Grover and Erwin fled in 1916, there was a major attempt to capture them. In 1920 they were actually caught and imprisoned in a U.S. Army facility. The Bergdoll's still had a few friends in high places which included two Army Generals and a federal judge. These men interceded and allowed the brothers to be released in 1920, under guard, to "go to a place where gold had been hidden." The government's intention was to seize the money. On their way they encouraged their guards to stop at a friend's home for dinner. The guards became drunk and the brothers escaped. Grover fled to Germany and did not return until he voluntarily surrendered in 1939. Erwin, as has been mentioned, surrendered and stood trail with the rest of the family receiving a moderate sentence.
The escape, however, was noticed by the U.S. Congress where there was accusations of collusion and a hearing was ordered.
The "defiance of authority in the United States of these Bergdolls has become a national scandal," said U.S. Representative Ben Johnson of Kentucky on July 24, 1921, when U.S. Congressional hearings were being held to allow the government to continue an investigation of the Bergdolls.
This ongoing pursuit of the Bergdolls throughout the war and into the 1920's was the result of the jingoism then prevalent in America and its direction against people of German descent. It gave an opportunity for some politicians to make themselves into headline patriots.
After intensive grilling of Charles A. Braun by Johnson, Braun called the Representative "a liar." Johnson pulled out a pistol and attempted to shoot Braun but was restrained by Johnson's wife and congressional colleagues. Johnson's questioning after an hour had become "irrelevant, and construed as reflections upon Braun's wife and family," according to the New York Times of July 24, 1921. The incident is the only instance where a U.S. Congressman attempted to kill a citizen of the United States who was testifying at the behest of a Congressional Committee.
Under the Alien Property Custodian Act, some property belonging to all the Bergdoll's was seized by the government in 1921 even though the entire family were U.S. citizens. The property was returned by the federal court in 1939. Also in 1921 the Volstead Act which created prohibition passed and the brewery closed down, never to reopen. A major source of income for the Bergdolls ended with the brewing business.
During the late 1920's the search for Grover continued unabated and attempts on his life were made in Germany where he had migrated after the war. Major publications in this country speculated that the attempted assassinations were the work of U.S. agents. His story, full of intrigue and disaster, will not be pursued here but it explains Charles Braun's moves to place himself far from his family, and in a community where he would not be known.
In 1928, Charles sold all of his holdings except the quarry and traveled to California to take up residence in Vista. Charles would return to Philadelphia only twice more: once when his mother Emma passed away and upon his own death in 1962.
The Braun's new residence was located on what had once been part of the Buena Vista Rancho; it was subdivided in the 1920's and 1930's into avocado estates and business properties.
Braun purchased property from the Vista Development Company in an area had come to be regarded as important in the citrus and avocado growing industries.
The subdivider was Erwin G. Hart, who had developed North Whittier and La Habra Heights around Los Angeles and who organized the Vista Development Association in 1925.
Braun purchased 44 acres in Orleavo Heights to plant an orchard and made plans to build a family residence on the grounds. He contracted with Edgar V. Ullrich, an architect whose offices were in La Jolla, California, to design the home. He also contracted with the Porter Construction Company of La Jolla to build the home on 3 1/2 acres within the orchard. The building was described as California Moorish style with tiled roof with stucco and brick walls.
The cost of the house was estimated at $30,000 and was placed at the leveled highest point on the grounds. The total cost of the property, orchard stock, home, additional buildings and landscaping came to some $100,000. The property contained the main H-shaped two-story house, two 2-car garages, a servant's house, pump house, carriage house, foaling shed, cattle shed, three poultry/game bird houses, a reflecting pond and hundreds of trees. The latter included avocado, citrus, cypress, eucalyptus, horsetail pines, coral trees, olive trees, palms, Buna Buna tree and some Torrey Pines. The traditional layout of the grounds centered around a circular drive. At some later date a swimming pool and formal planted backyard surrounded by a brick wall were added to the grounds. Braun acquired a string of thoroughbred horses and in October 1929, be brought another 100 acres of land for their pasturage. Commercial land prices in Vista at this time ranged from $450 to $900 an acre.
In January 1930, Louisa, Charles Jr., and Louise arrived in Vista and a full carload of furniture arrived on the Santa Fe Railroad. By May, Braun and his wife were already committed to community affairs. He donated to the Vista Fire Department; she was the new president of the Women's Club. Their son and daughter soon returned to the east coast to attend college.
In late 1930, Braun began a law suit against both the Vista Development and Porter Construction Companies over problems which evolved. Newcomers often planted citrus and avocado trees in the wrong kind of soil and then were forced to watch their investments perish. The Braun property had not been tested for root rot virus which was present. The disease attacked the fruit-bearing trees and rapidly killed them, a problem which persists to this day. Braun, however, built his case around the fact that the developer and contractor had graded improperly, thus removing the quality topsoil which he claimed would have been sufficient for the trees to overcome the virtus.
Braun won his case in Superior Court, and in April 1932, moved his family to Palomar Mountain in north-central San Diego County where they had another home. In 1934, having located a new place to breed and train thoroughbreds, he moved again settling in Valley Center, California, a few miles east of Escondido, California. He continued to derive income by retaining ownership of the stone quarry on the East Coast. From the Valley Center home, he also maintained the horse ranch in Pauma Valley until 1953 when he retired.
Charles died in 1962 leaving his wife Louisa A. Braun, a daughter and a son.